Whether your family member or friend is already a positive energy person, or if they need some good vibes sent their way – I have compiled the BEST list of positive energy gifts for 2023 that fits all budgets!
I love filling my home with beautiful, uplifting, positive energy things – As well as, wearing things that make me happy!
I also looove to spread happiness, light, and good vibes wherever I go, and my gift-giving is no exception!
So, I am making this best gifts for positive energy guide to assist others in finding something meaningful, beautiful, and that will uplift and hold positive energy in your friend's home!
"This post contains affiliate links. As an Amazon Associate, I earn from qualifying purchases."
Positive Energy Gifts
These gifts are gifts that spread good energy, or good vibes! Each gift has been carefully selected, bought, and or used, by me to uplift myself and others.
(Because, let's face it, what the world needs right now is more happiness and positivity!
I believe in the power of positive affirmations and words to uplift and inspire! I wish they'd had these blankets years ago! They are so beautiful, incredibly soft, encouraging, and spiritual!
Available in multiple colors and styles, this meaningful spiritual gift is sure to let that special someone know how much you mean to them every time they use it!
For a bit more, you can pick up the gift set of Positive Affirmation Blanket, Neck Pillow, Tote Bag, Comfy Socks, & Eye Mask!
Let the good vibes roll with these uplifting, calming, and balancing blends from Woolzies!
This Woolzies Happy Essential Oil Gift Set helps reduce depression, anxiety, and stress!
Pair this with a passive Lotus Essential Oil Diffuser from my favorite essential oil company and you have the recipe for a great positive energy present that everyone will love!
Nothing says positive energy like lavender, and this gift set features organic lavender items (my favorite!)
With organic lavender soaps, body butter (the best!), lip balm, bath salt, sachet (great for putting in your pillow!), and scrubbing sponges – This set has it all!
Ever wonder what magic potion they put in the relaxing foot soak at the spa? Well, now you know!
Thena Natural Wellness Relaxation Bath Soak combines a blend of essential oils and minerals to naturally soothe tired muscles and joints.
Great for your friends who love working out, or who have pain from not working out! LOL!
Selenite is a beautiful white crystal that holds a very high vibration and positive energy. It never needs clearing or recharging to keep its positive energy high!
This makes selenite a perfect crystal to clear and recharge other crystals!
It transmutes lower, negative energies and creates a peaceful, relaxed vibe! This Selenite Lamp creates the perfect peaceful glow to uplift any space.
I also looove this Selenite Charging Plate! It is perfect to place your crystals and crystal jewelry on to easily clear and recharge them!
I love these Power Thought Cards by Louise Hay (whom I also love!) They are beautiful reminders for upliftment and joy!
Your friends can place a few out to see first thing in the morning, or they can go through them when they need a happiness boost, either way, they spread positive energy wherever they go!
He he! I looove this one and have been waiting to buy baby Yoda stuffed animals for-ever!
He is so cute and happy and sends good vibes to anyone who watched "The Mandalorian" on Disney + last year!
Baby Yoda rocks! Need I say more?
These bracelet cuffs have wonderful positive affirmations written on the inside of them to spread the good vibes to your friend every time they see it!
"You are braver than you believe, stronger than you seem, and smarter than you think."
The particular one, just happens to be my fav!
This book is all about the power of inner transformation and self-love. It is an excellent book full of positive energy and I highly recommend it to everyone!
This makes a perfect positive energy gift for any of your friends who love to read and be uplifted!
After all, the key to a happy life is to learn to love yourself first!
Fun, quirky, uplifting and creative – This adult coloring book spreads the positive vibes all-around with it's unique positive affirmations!
For all your friends who love art, doodling, and being creative – This makes the perfect gift!
Stack bracelets kick butt and this stack bracelet comes complete with hematite (for grounding negative energies), lava (strength, courage, stability through change) & fluorite (which I personally wear to increase joy)!
This is a win, win, win positive energy gift that any of your boho fabulous friends would love to have!
Do you have a friend you know who gets the winter blues or SAD (Seasonal Affective Disorder)? Or, maybe, you get it too?
Raw amber is said to counteract this, because the stone holds light so well! It keeps us positive and happy through the winter months and is also said to help with pain and inflammation!
My family suffers with low serotonin production and are always affected when the winter months roll around.
We have the opposite of positive energy in winter, and I went searching for ways to counteract this.
Besides switching to a mostly whole-foods organic diet and exercising – This light therapy lamp is great.
I personally use one to help with my energy, mood, and sleep regulation during the winter months and can tell a big difference!
This would make a great positive energy gift for any friend you know who struggles during the blustery winter.
Sometimes the best positive energy gifts are the novelty ones! You know, the gifts that just make you happy every time you use them.
This glow-in-the-dark butterfly blanket is a novelty gift, but a fun one!
This device is brilliant and combines two great things – Himalayan salt lamps & essential oil diffusers in one!
You can use either feature separately, or use them together!
Both himalayan salt lamps and essential oil diffusers will raise the positive vibes of any place – So, you can't go wrong with this beautiful combo!
I love sage candles to remove stuck lower negativity from a space and increase the positive energy.
I use sage in meditation, when I'm feeling low, and after I clean to increase the good vibes in my home.
Pair sage with lavender to raise the vibration even more and you have another winning combo for a positive energy gift that is sure to please!
Out of all these positive energy gifts, this one may be my favorite! With its vintage vibe and cowl neck – This good vibes hoodie is awesome!
For the friend who loves to be comfy, make a statement, and remind everyone else to have good vibes – Pick this perfect gift up today!
As a bonus, this logo also comes on good vibes t-shirts and on good vibes black hoodies!
A whole country adores him, but he contributes his happiness to simplicity and mindfulness. To living in the present moment.
The Dalai Lama's wisdom is a must-read for anybody seeking true happiness from within themselves.
A Year of Positive Thinking Book contains daily inspiration, wisdom, and motivation to keep you living in the now and striving to live your best life!
A wonderful positive energy gift to give any friend to help them appreciate each and every day as it comes – no matter what challenges it brings!
For those of you who are on here because your friend is suffering from a loss or lost their job, or is having a hard time in any way – This inspirational thumb stone is a great reminder that my own spirit guides give me all the time!
Now, you can be that beautiful reminder to your friend that every little thing is going to be alright!
And, they will smile (and maybe cry healing tears), every time they see this message from you (their own personal angel and friend!).
This beautiful bracelet with 7 types of stones that helps to heal and balance your chakras (energy centers held within the body).
When your chakras are aligned, things in your life just flow more smoothly. This ease creates harmony, balance, and happiness!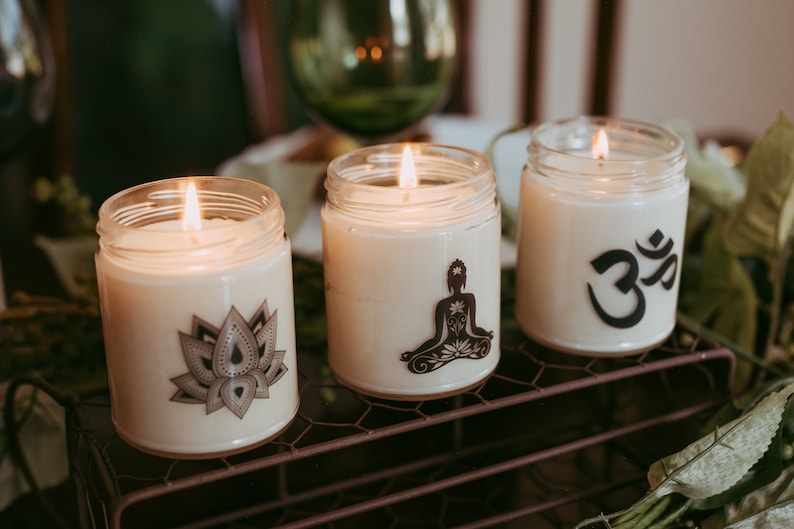 Spread the positive vibes all around with this Gorgeous Zen Candle Set, made of soy with organic hemp wicks.
Included are 3 totally Zen scents to meditate or just relax to: Good karma scent, eucalyptus mint scent, and lavender.
Final Thoughts on Positive Energy Gifts
And there you go!
25 best gifts for positive energy, that will fit ANY type of person who is a ray or light or needs some upliftment!
Have you tried any of these positive energy gift ideas? Do you have any other ideas for uplifting gifts? Please like, comment, and share on social media!
Related Posts You May Like:
This post contains affiliate links. You can read my full disclosure/affiliate policy here.