Your parents are very special and their 50th wedding anniversary is a huuuuge milestone!
Luckily, there are these 50th anniversary gifts for parents that made this list, and are sure to make your parents 50th anniversary – Their BEST one yet!
From thoughtful to traditional to funny – These carefully-selected 50th anniversary gift ideas for parents do not disappoint!
What is the Traditional 50th Wedding Anniversary Gift?
Gold is the traditional gift for the "Golden 50th" wedding anniversary. However, any thoughtful gift with a heartfelt message, engraving, or something your parents would never buy themselves will do!
What is a Good 50th Anniversary Gift for Parents?
Good 50th anniversary gifts for parents are thoughtful and show you know them. A great gift memorializes the 50th wedding anniversary, brings your parents closer together, or is something that you know your parents would never buy for themselves.
"This post contains affiliate links. As an Amazon Associate, I earn from qualifying purchases." You can read my full disclaimer/affiliate policy here.
50th Anniversary Gifts for Parents
I'm in love with these Custom 50th Anniversary Star Maps! They are absolutely beautiful, affordable, and can be customized for ANY date & couple!
Just provide your parents wedding date and location, and you'll receive a map of the stars over the sky on that day that makes a perfect golden anniversary gift!
Also, don't forget to pair it with an elegant Gold Picture Frame!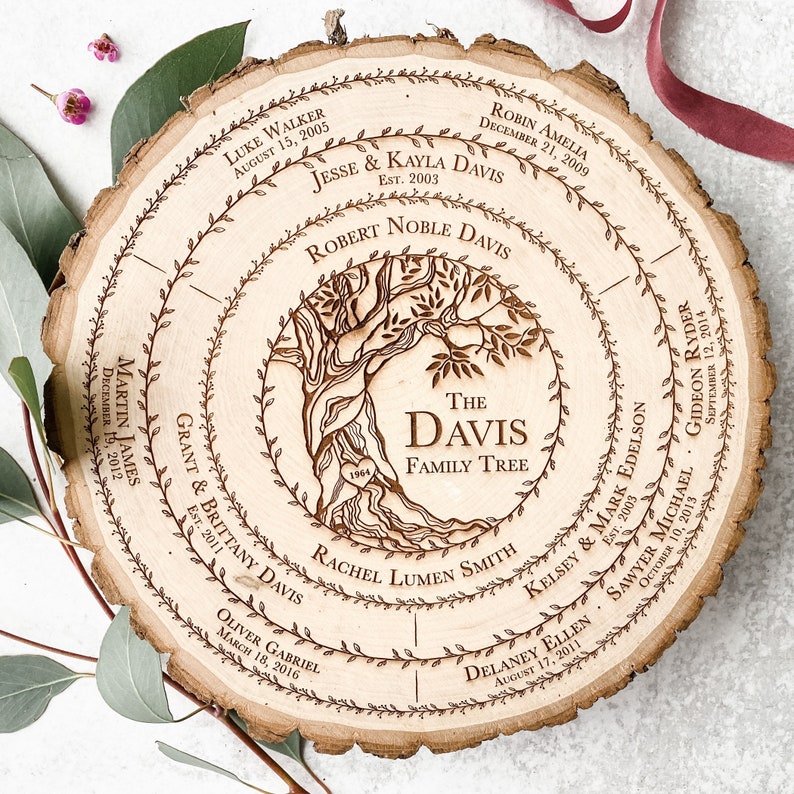 This Wood Family Tree Chart makes a great 50th wedding anniversary gift for parents to treasure! Unique and handmade anniversary gifts make amazing keepsakes!
A beautiful affordable 50th wedding anniversary gift idea, this picture frame says it all with gold lettering!
Just grab a picture of your parents from their wedding day, and a picture of them now, and pop them in the frame!
Nothing is a more touching than giving your parents the anniversary gift of rocking together in their yard watching the sunrise or sunset!
This surprising affordable, well-rated Glider Loveseat comes in 3 colors and is sure to be a big hit at your parents 50th anniversary party!
This book is sure to bring your parents together for their Golden Years! Your parents fill it out as a couple and list all they want to do, from sky diving to swimming with dolphins!
Then they can fill in the idea, story, and completion dates together as well!
These Funny Coffee Mugs would make a great 50th anniversary gifts for parents, or even grandparents!
They say "50 Years of being Mr. Right" & "50 Years of being Mrs. Always Right" in gold lettering.
They even come with golden spoons and lids!
My parents did this, and my in-laws, and my grandma, and you get the picture! It's just something that age group like to do, but maybe don't want to buy for themselves.
Let your parents trace their roots & traits with this super easy to use DNA Testing Kit!
Get the siblings to go in on this one-of-a-kind beautiful gift! Nothing says 50th Golden wedding anniversary like a $50 gold coin!
Besides that, gold is a great investment that always seems to go up in value!
If you parents have a sense of humor like mine do, then they'll love these matching Funny 50th Anniversary T-shirts!
Sold in 10 colors for men and women, this shirt says, "I survived 50 years of marriage and all I got was this t-shirt!"
Nothing says "I do forever" like your parents names put into hearts on these beautiful prints!
Just send them the names of your parents and their 50th wedding anniversary date or the date of their wedding, and voila, you have a beautiful 50th anniversary gift for your parents!
Sometimes, your parents are just super happy to pick their own gift! Get all your siblings to go in on a large amount gift card and let your parents or grandparents pick out a big ticket item they've been dying to own!
Since Amazon carries most everything, a Gift Card from there is a safe bet for a great 50th anniversary gift for your parents!
This personalized family name blanket is sure to bring joy to your parents on their 50th anniversary, and for years to come!
Personalized with the names of all their family, the one thing all parents hold most dear!
My friend's parents received a Massaging Chair as a gift, and have loved it! I kept visiting them when I was pregnant because I was so sore!
It has become a family favorite item, and if your parents or grandparents are in their 70's or 80's, they will absolutely love this for their 50th anniversary present!
Add a picture of your parents at their wedding, and a picture of them on their 50th anniversary, their names and date they got married, and the perfect gift is born!
This Greatest Parents on Earth Plaque is a thoughtful saying on a 6″ x 9″ wooden plaque with an easel that is sure to bring a tear to your parents eyes!
Let your parents toast their golden 50th anniversary with some golden bubbly with some Personalized 50th Anniversary Champagne Flutes!
You can also choose to personalize red or white wine glasses for an anniversary your parents are sure to remember!
Give your parents a beautiful keepsake for their tabletop or yard with the personalized 50th golden wedding anniversary sundial!
You can also upgrade to a Larger Size or Sundial with Pedestal Stand.
Give your parents a 50th anniversary gift they'll treasure forever with this engraved photo album.
The 50th golden anniversary photo album holds up to 100 4″x6″ photos and can be filled with priceless memories through the years!
Sometimes, your parents just want a 50th anniversary gift that helps them live a little easier!
The iRobot Roomba 675 Vacuum is perfect for pet hair, carpets, and hard floors!
Get friends and family to sign the plate with the special pen provided, bake the plate, and give an amazingly thoughtful 50th anniversary gift!
This beautiful engraved wooden plate will commemorate your parents 50th anniversary in a timeless way!
Customize this adorable art print with your parents or grandparents wedding date, names and hometowns and they'll take care of the rest!
Do your parents or grandparents have a special wedding song, or anniversary song?
This customizable canvas print is beautiful and perfect for a 50th wedding anniversary gift for parents who remember and treasure their song together!
This personalized names & wedding anniversary date wooden cutting board makes a gorgeous gift for your parents 50th they won't soon forget!
Final Thoughts on 50th Anniversary Gifts for Parents (New for 2023!)
Your parents raised you, changed your diapers, came to your games, took pictures of you before prom, and adored you since the moment they laid eyes on you!
Any of these gifts would make a super memorable 50th anniversary gift for your parents!
Do you like any of these 50th anniversary gifts for parents ideas? Do you have any other ideas for golden 50th wedding anniversary gifts that are super thoughtful, creative, or tear-inducing? Please like, comment, and share on social media!
Related Posts You May Like:
21 BEST Positive Energy Gifts (For every budget!)