Men CAN be hard to buy for, but don't have to be this year! This list of BEST Christmas Gifts for Men 2023 has been carefully compiled with what men actually want!
Even if you think your husband, boyfriend, dad, brother, son, or co-worker already has it all, I guarantee they don't have ALL these Christmas gift ideas for men!
Check out these unique, thoughtful, trending Christmas gifts for men new for 2023!
"This post contains affiliate links. As an Amazon Associate, I earn from qualifying purchases."
You can read my Full Disclaimer/Affiliate Policy here.
BEST Christmas Gifts for Men 2023 – GIFT GUIDE
Men looove their multitools and use them all the time! From camping, backpacking, or just everyday household use – Your man will think this is a great Christmas gift!
Make sure it's a genuine Leatherman like this less expensive one in silver that comes with a few less tools, because they offer a 25-year warranty!
These boxers make a perfect cool, comfy, Christmas gift for men 2023 that you can use as a stocking stuffer!
If your husband, boyfriend, or son wears his ratty old boxers for far too long, grab him a 6-pack of these Coolzone Fruit of the Loom Boxer Briefs that will last him another 10 years!
If your husband wears belts, this is THE greatest belt! Coming in sooo many styles/colors/buckles/materials – This Mission Belt actually ratchets on!
No holes to wear out over time, just quick and easy! This makes this belt one of the perfect Christmas gifts for men for 2023!
(And yes, my husband got one last year and still loves it!)
GPS, cellular, voice assistant, fitness tracker, and swimproof! All great things to love about the New Apple Watch Series 6, which makes a perfect Christmas gift for men who want to be more organized, or are into fitness in 2023.
This rechargeable cordless handheld deep tissue massager is great for guys who have painful necks, shoulders, or backs!
If your man loves coffee, but doesn't have a Keurig yet, this Christmas gift is a winner!
Quick, easy, and delicious – The Keurig K-Classic is an Amazon best-seller for a reason!
You can also check out the Keurig K-Elite that can make iced coffee in the summer as well!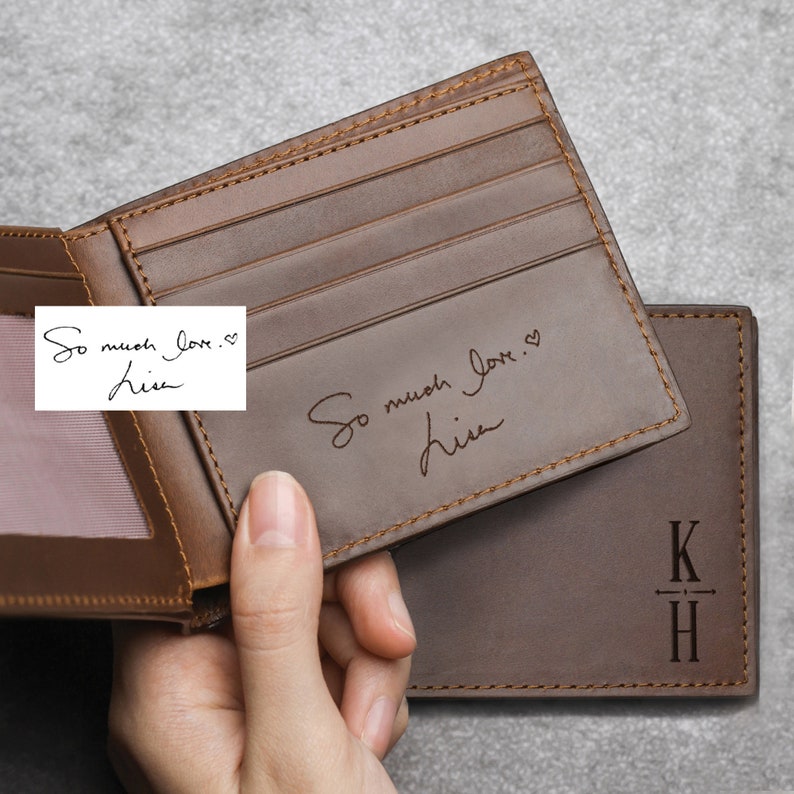 This unique, thoughtful Christmas gift for husbands lets you put your own handwriting on a beautiful Engraved Leather Wallet!
A super-cool Christmas gift idea for men who love to entertain! One of the hottest trending Christmas gifts for men for 2023 is this 23-Piece Mixology Bartender Kit with Cocktail Book in a Bamboo Stand!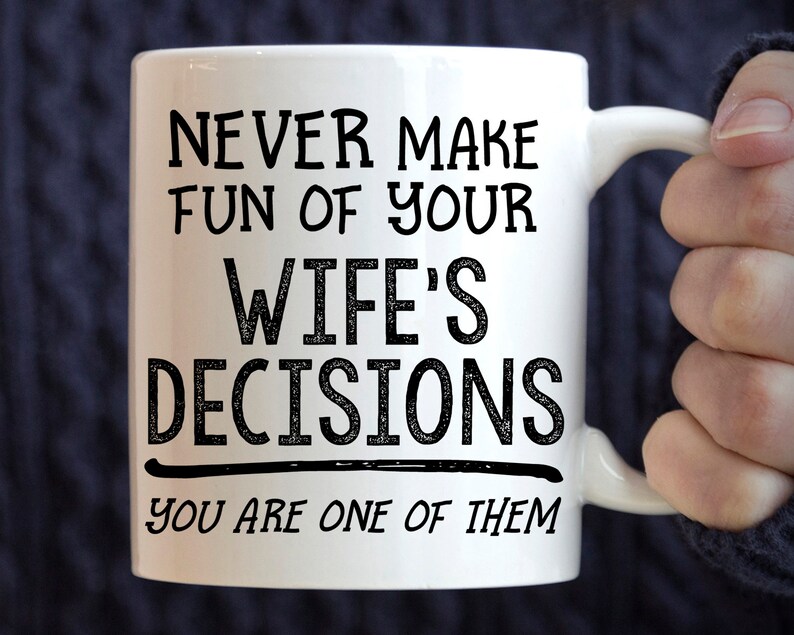 Sometimes, husbands can be difficult to buy presents for! Almost every year for Christmas, my husband claims "he's good" and "doesn't need anything", but he always appreciates opening something, even if it is small!
Men are just modest and chill that way! Check out this super funny Christmas gift mug idea for your husband that will have him rolling over with laughter!
Let's face it, men love to barbecue! Imagine, backyard barbecues and less cooking for you with beautifully delicious barbecued food!
If your man doesn't have a barbecue, or his current barbecue has seen better days, check out this one by Weber!
Another thing men wear for far too long are robes! They'll wear their old, ratty, disgusting robes forever – Or maybe don't have a robe to jump out of the shower into on a cold Christmas morning!
This super-soft Fleece Robe from David Archy is warm, comfy, and best of all – Full-length!
The one trimmer to trim them all! This great Norelco Grooming Kit makes the perfect Christmas gift for men who home trim their beard, head, or body hair!
It really is a one-size-fits-all gift to keep your husband looking hot for you!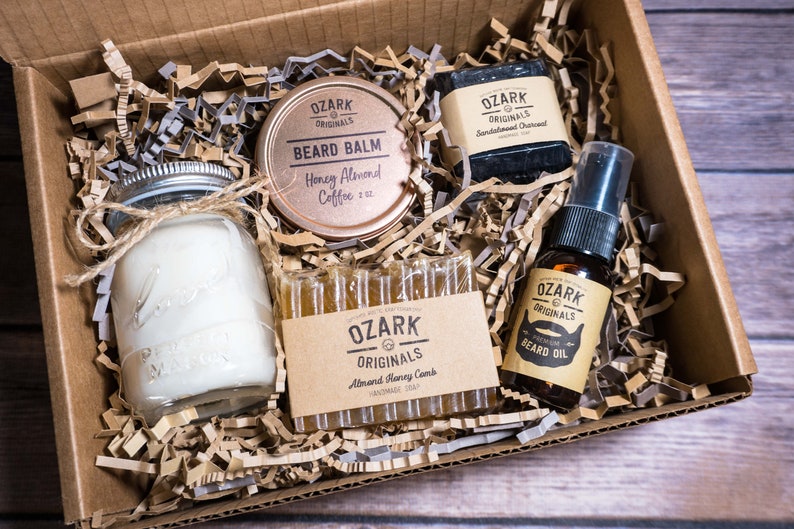 If your man sports any kind of beard at all, Etsy does it again with it's beautiful handcrafted Beard Care Gift Set!
Amazing smelling and packed in recycled kraft paper makes this a trending and perfect Christmas gift for men with beards in 2023!
Sleek, stylish, wireless, noise-cancelling, and a customizable fit – All make the Apple Air Pods Pro a great Christmas gift idea!
With it's large display touchscreen and lots of storage, the HP 17.3″ Touchscreen Laptop will give any guy a Merry Christmas indeed!
With it's double insulation, stainless steel, BPA-free, dishwasher safe, shatter resistant and magnetic close – NOTHING beats a YETI coffee or drink tumbler!
Your man's coffee, soda, or water – Will stay whatever temperature it started for hours!
Now, is the BEST time to stock up on gear for going into the great outdoors! Great for lakes, this Inflatable 2-Person Intex Explorer Kayak is perfect for the men in your life to reconnect with nature!
Relax and unwind in your home or yard with this Outdoor Wind Double Hammock! Give your guys the gift of Zen peace this Christmas 2023!
If the man on your xmas list is a gamer, the Xbox One S Bundle is for him! Besides gaming, you can also play 4K Blue-ray movies and stream 4K from Netflix, Amazon, and Hulu!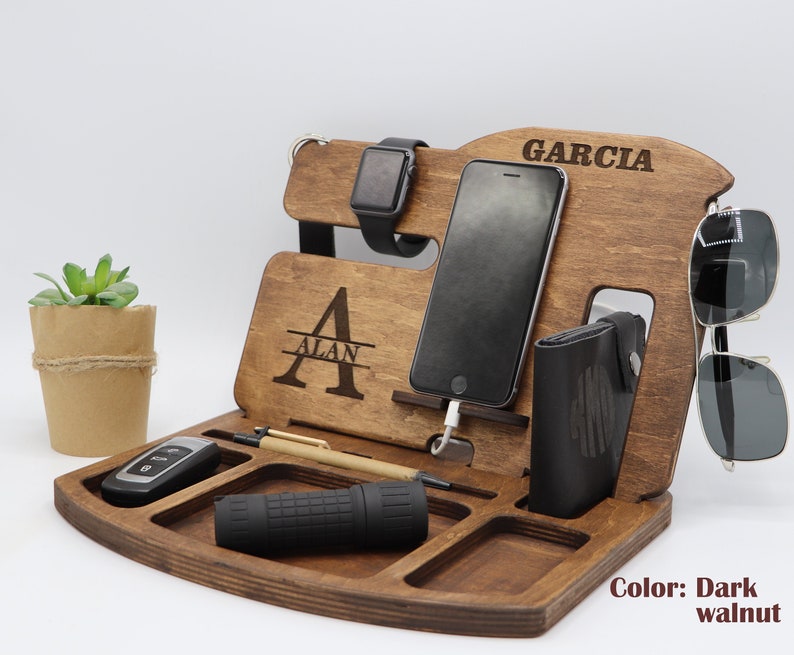 Give your dad, son, father-in-law, husband, boyfriend, or brother the gift of not losing his phone, keys, or wallet anymore! With a Wooden Men's Personalized Docking Station, this Christmas gift for men 2023 will have him grinning from ear to ear!
Few Christmas gifts for men will calm and relax them at the end of a long day like this one!
This Shiatsu Foot Massager is an Amazon bestseller and even has heat!
Looks dumb, works amazing for back pain relief! This 3-Pack Chirp Wheel has a patented center groove for your spine and relieves back pain and tension! It even strengthens your core!
Get your men some new Jogger or Lounge Pants for Christmas 2023! Great for jogging or working out in, however, my husband just loves these to lounge at home in comfort after a long day's work!
Christmas and pajamas go together like peanut butter and jelly! These Christmas Pajamas from Tipsy Elves are great! You can buy any men in your life the "Naughty" one, because let's face it – They all are!
Men love a good pocketknife that they can carry for everyday use! This Blur Black from Kershaw Pocketknife clips right to your pants and is made of stainless steel!
Plus, it just looks awesome!
A cool and unique 2023 Christmas gift idea for men is this Natural Lava Stone Wireless Charger from Eggtronic!
Mined from natural lava stone – What a gorgeous, fun, eco-friendly Christmas gift idea!
We have this 3-Piece Hard Case Luggage Set with Spinner Wheels from Coolife and so far have loved them!
If their luggage is old, non-existent, or he travels a lot for work – Upgrade his set for Christmas today!
Men are always fixing things, hanging pictures, etc. That makes a Makita Cordless Drill Set a perfect Christmas gift for him if he doesn't already have one in 2023!
No men's 2023 Christmas wish list would be complete without a tool kit! This DEKOPRO 128 Piece Tool Kit is a must-have for any handy hubby, dad, boyfriend, or brother!
With easy payment options, 100 night trial, and thousands of people swearing by them, a Purple Mattress could be a great Christmas gift for your husband or father (get your siblings to go in on it!)
Christmas won't be complete if he doesn't have a great pair of snow boots for 2023! These Bugaboot Waterproof Winter Boots with Omni-Heat from Columbia are a steal on Amazon!
If your man doesn't have full winter weather gear, or his is old, consider upgrading him to this great Columbia Men's Cushman Crest Jacket for Christmas!
Stylish, warm, and great for everyday wear – An awesome jacket is a must for the men in your life for the 2023 Christmas season!
Nothing beats a CamelBak hydration backpack for all of his hunting, fishing, hiking, camping, and overnight trip needs!
Buy a good mid-size one Like This and they'll last for years!
Men love and need tools! If he has a lot of tools taking over your garage, consider getting him an outdoor storage shed like this one from Lifetime for Christmas!
With skylights, vents, shelves, and a limited 10-year warranty – Your man's 2023 Christmas would be a super memorable one!
Another thing men love is their big screens! From watching the big game to new release movies to his favorite Netflix shows –
This Samsung 55-Inch Smart TV with Alexa wins BEST Christmas gift for men 2023 ever!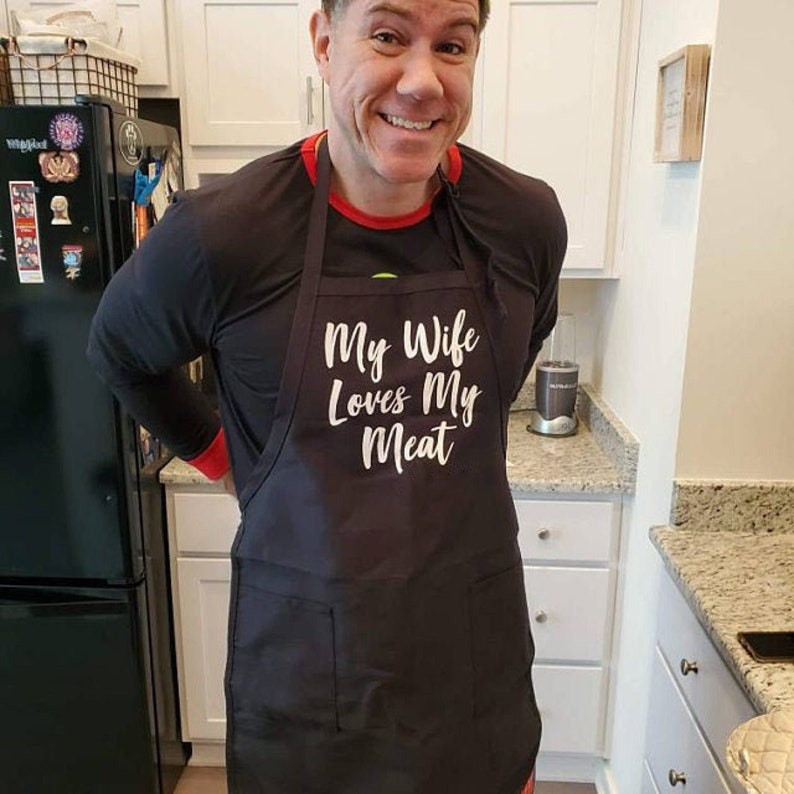 For the husband who loves to grill, this hilarious "My Wife Loves My Meat" Apron will be a huge hit at all your friend & family barbecues!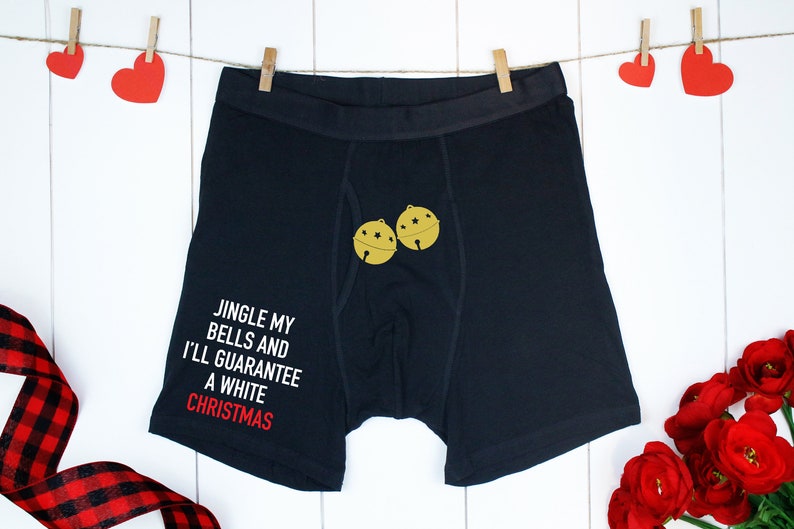 Another Etsy bestseller are these hilarious Jingle Bell Boxers! They make a really good Christmas gift for husbands who love a good laugh!
After all, if we can't joke about these things with our husbands, who can we?
Final Thoughts on 2023 Christmas Gifts for Men
And voila!
37 of the BEST 2023 Christmas gift ideas that will please ANY husband, boyfriend, co-worker, dad, brother, neighbor, son, or father-in-law, and fit ANY BUDGET!
Spread some Christmas cheer this 2023 holiday season by honoring the great men in your life with a super amazing, thoughtful gift!
Have you tried any of these 2023 Christmas gifts for men ideas? Do you have any other ideas for Christmas gifts for men? Please like, comment, and share on social media!
Related Posts You May Like: