Husbands CAN be hard to buy for, but don't have to be this year! This list of "BEST Birthday Gifts for Husband 2021" has been carefully compiled with what your husband actually wants!
Even if you think your husband already has everything, I guarantee they don't have ALL these birthday gift ideas for husbands!
I've carefully curated the most popular, unique, and thoughtful birthday gifts for your husband – And put them into one non-overwhelming birthday gift list.
Your husband is special! Get him the best birthday gift for a husband he's ever had!
What is the BEST Birthday Gift for Husband?
Husbands aren't usually too picky when it comes to gifts. Many husbands even say then don't need anything for their birthday! But, wives know better!
Take care of your husband on his birthday! Men really want to know they are loved and appreciated, above all else!
Get him a great knife, new pants (they always need these!), or something to make their lives easier like a beard care kit.
How Can I Surprise My Husband on His Birthday?
The BEST birthday gift ideas for husbands are the ones that come from the heart! A great gift goes a long way and says you put forethought into your husband's birthday surprise.
But, you can also cook him his favorite dinner, take him to his favorite restaurant, schedule a trip to the shooting range, or give him a massage in some slinky lingerie!
Other surprises can be as simple as having something engraved for him, or having the house decorated with balloons and a sign to surprise him when he gets home.
"This post contains affiliate links. As an Amazon Associate, I earn from qualifying purchases."
Click here to read my full disclaimer/affiliate policy.
BEST Birthday Gift for Husband 2021 – GIFT IDEAS
This rechargeable cordless handheld deep tissue massager is a great birthday gift for husbands who have painful necks, shoulders, or backs!
If your husband loves cocktails, then he'll love this Mixology 23-Piece Bartender Kit for his birthday!
It has all the awesome shakers, strainers, peelers, and pourers to make amazing cocktails for himself or guests, right from home!
These tagless boxer briefs from Hanes are my husband's favorite because they are super-soft cotton without being slippery or too tight on his legs!
This Philips Norelco Multigroom Series Grooming Kit tops the list of the BEST birthday gifts for husbands because it works on everything!
It trims body hair, head hair, and, of course, facial hair!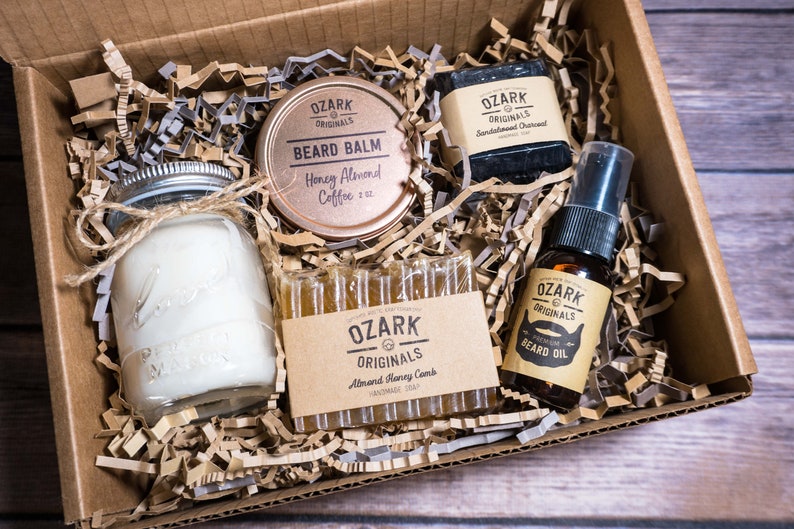 Etsy is a no-brainer for personalized, handcrafted, and DIY looking husband birthday gift ideas! This Beard Care Gift Set is no exception for husband's with any kind of facial hair.
Amazing smelling and packed in recycled kraft paper makes this a trending and top birthday gift for husbands with beards!
There's a reason husband's want the new Apple AirPods Pro – They're sleek, stylish, sound great, wireless, and best of all, stay put!
Anyway you slice it, these make a good bday gift for your husband who works out, listens to music, or just wants to make wireless phone calls in the car!
If your husband doesn't have an Inflatable Kayak yet, this may be the BEST birthday present ever!
If your family loves lakes, nature, rivers, camping, and fishing – This birthday present for him will not disappoint!
A cool birthday gift for husband's who love their coffee, this Keurig K-Classic Coffee Maker brews fresh and delicious coffee with just the touch of a button!
And don't forget the K-Cups!
If your husband drinks coffee, tea, soda, or cold protein drinks – Nothing beats a Yeti Tumbler for keeping your hot drinks hot & your cold drinks cold all day!
Men looove their multitools and use them all the time! From camping, backpacking, or just everyday household use – Your husband will think this is a great birthday gift!
Make sure it's a genuine Leatherman like this less expensive one in silver that comes with a few less tools, because they offer a 25-year warranty!
GPS, cellular, voice assistant, fitness tracker, and swimproof! All great things to love about the New Apple Watch Series 6, which makes a perfect birthday gift for husbands who want to be more organized, or are into fitness.
Another thing husbands wear for far too long are robes! They'll wear their old, ratty, disgusting robes forever – Or maybe don't have a robe to jump out of the shower into on a cold morning!
This super-soft Fleece Robe from David Archy is warm, comfy, and best of all – Full-length!
Few birthday gifts for husbands will calm and relax your hubby at the end of a long day!
This Shiatsu Foot Massager is an Amazon bestseller and even has heat!
Looks dumb, works amazing for back pain relief! This 3-Pack Chirp Wheel has a patented center groove for your spine and relieves back pain and tension! It even strengthens your core!
We have this 3-Piece Hard Case Luggage Set with Spinner Wheels from Coolife and so far have loved them!
If your husband's luggage is old, non-existent, or he travels a lot for work – Upgrade his set for his Birthay today!
Men are always fixing things, hanging pictures, etc. That makes a Makita Cordless Drill Set a perfect gift for your husband's birthday if he doesn't already have one!
No husband's birthday wish list would be complete without a tool kit! This DEKOPRO 128 Piece Tool Kit is a must-have for any handy hubby!
Nothing beats a CamelBak hydration backpack for all your husband's hunting, fishing, hiking, camping, and overnight trip needs!
Buy a good mid-size one Like This and they'll last for years!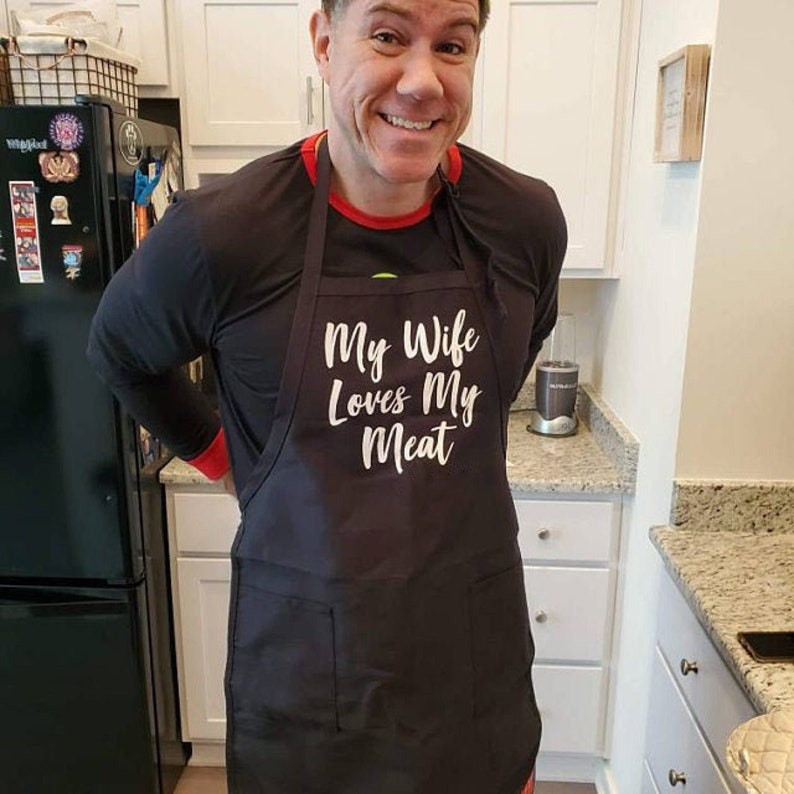 For the husband who loves to grill, this hilarious "My Wife Loves My Meat" Apron will be a huge hit at all your friend & family barbecues!
Personalized Gifts for Husband Birthday 2021
Personalized birthday gifts for husbands are a surefire way to make his birthday unique & special!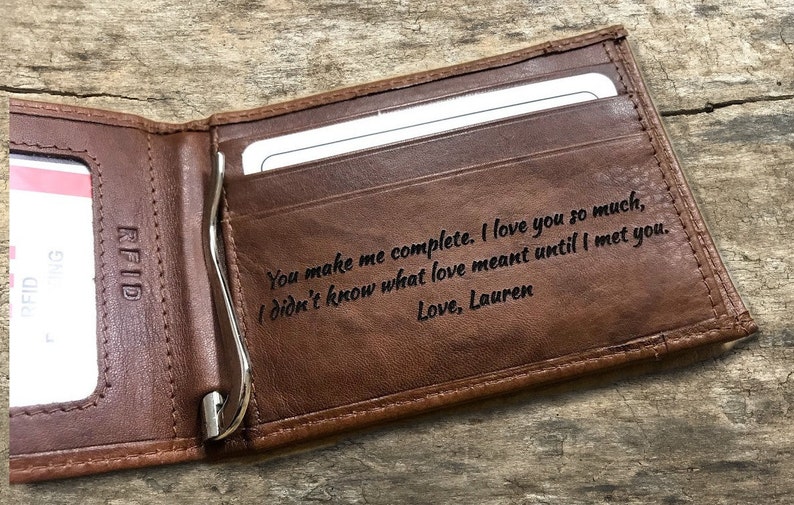 For a wonderfully unique birthday gift for your husband, this Personalized Leather Wallet is RFID blocking premium quality leather that you can personalize up to 30 words!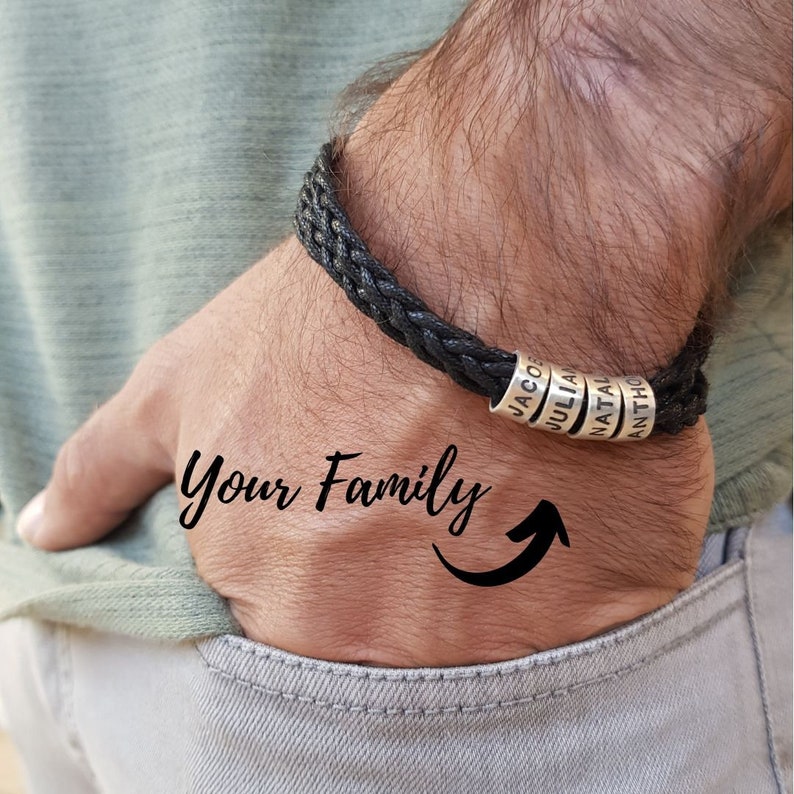 This Personalized Bracelet lets you add the names of your kids (and whoever else) on silver beads to a cool corded bracelet!
If your husband is into minimalist jewelry, he'll love this sentimental birthday gift!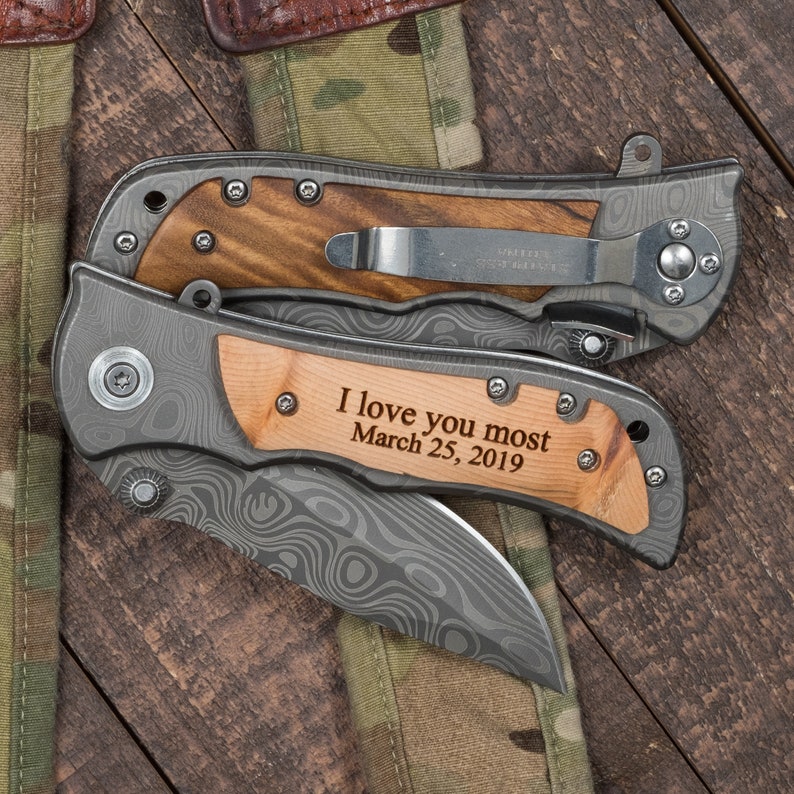 There is something about a pocket knife that men go nuts for, and this Personalized Pocket Knife is no exception!
And the fact that it's handmade, laser-engraved, and stainless steel – Makes this one of the best birthday gifts for husbands I've found! (And, one of the most affordable!)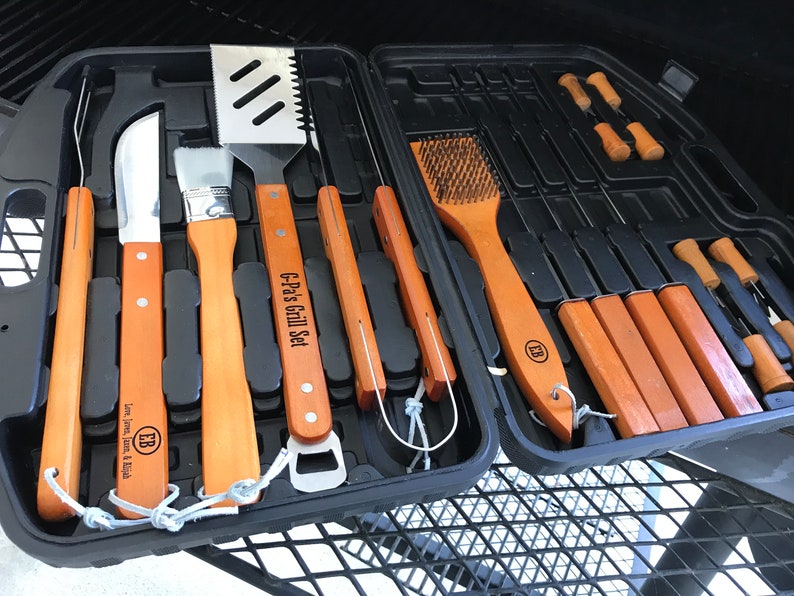 If your husband is into grilling, then this Personalized Grilling Set makes a good birthday gift!
With an 18-piece set and an awesome storage case, this husband birthday gift is a clear winner!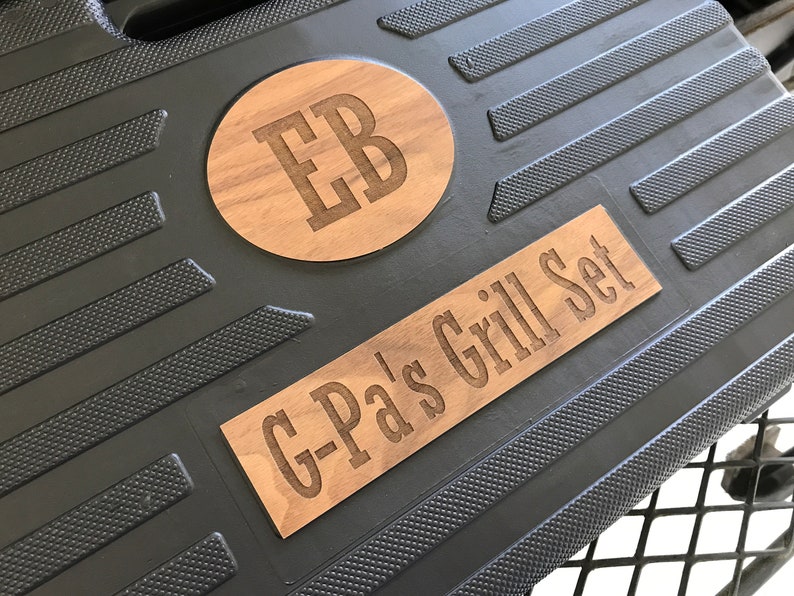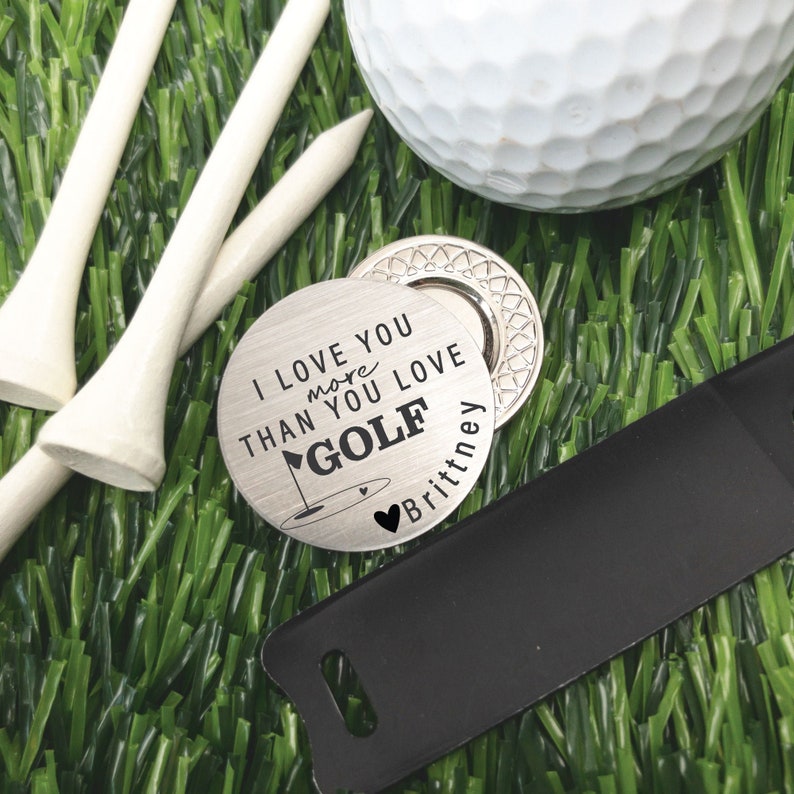 If your husband is into golf, he'll loooove this cute and funny birthday gift! This Golf Ball Marker is handmade, stainless steel, can be personalized up to 30 characters, and includes a magnetic hat clip!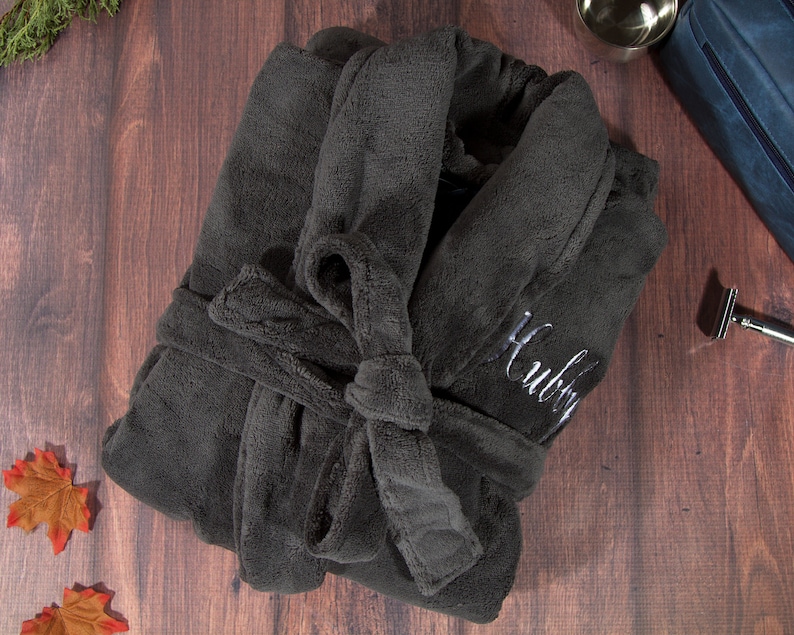 One of the most thoughtful birthday gifts for husbands I could find, this Coral Fleece Robe feels luxurious, but is easy on the budget!
With 5 colors to choose from, and the ability to embroider the front or the back with your husband's softball jersey number, nickname, funny name, initials, first name, or whatever you choose…
This robe is on the list of the top birthday gifts for husbands for 2021!
(I'd love to put something like "THE Greatest" on the back of my husband's, so it's like a boxing robe!)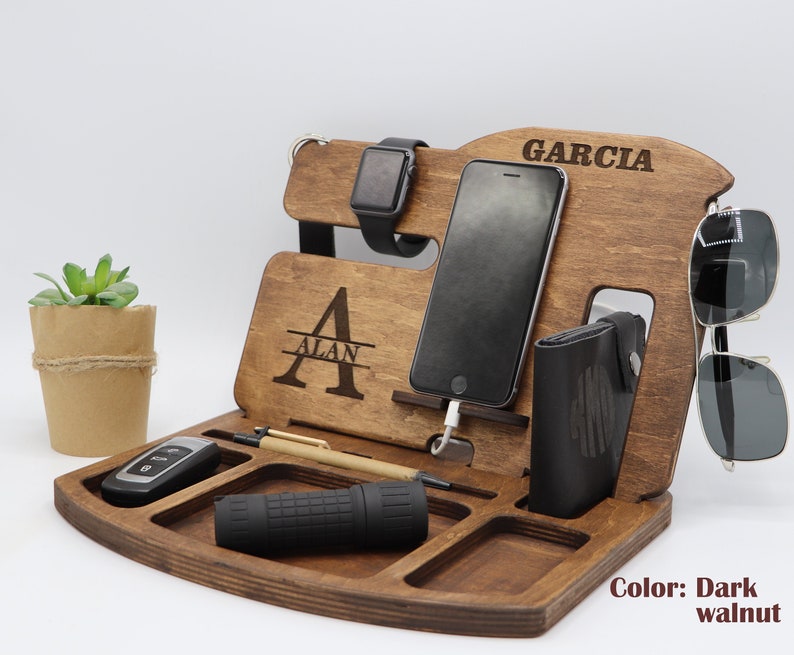 A unique birthday gift for husbands for sure, is this Men's Docking Station that can be personalized with monograms, name, or even a custom logo!
Makes a good birthday present for husbands who are constantly losing their keys, wallet, or cell phone!
Birthday Gifts for the Husband Who Has Everything 2021
Even if your husband has everything, these birthday gifts are some of the best! Your husband is sure to not have all of these!
For the birthday gift for the husband who has everything, consider an 8th Generation Apple iPad.
If you husband likes to watch Netflix, play games, read, or just needs a bigger, yet mobile way to browse the internet – This is a very thoughtful birthday gift for him!
If your husband doesn't yet have a hammock, this may make a great birthday gift for him!
This 2-Person Hammock comes with a stand, holds up to 450 lbs, and can be used indoors or outdoors!
Even if your husband has everything for his birthday, he does not have a sensual massage from you! Make it easy with this Sensual, Edible Non-Sticky Massage Oil!
This is a wonderful, romantic birthday gift for your husband that he will love!
A great birthday gift for the husband who has everything may just be something hilarious like this Set of 2 Dumbbell Beer Glasses!
If your hubby is constantly losing the remote, his keys, or his wallet – This Tile Essentials 4-Pack is a great husband birthday gift idea!
Works with Alexa (if you have it), or an app, you can easily track these items through bluetooth!
If your husband has a lot of tools taking over your garage, consider getting him an outdoor storage shed like this one from Lifetime for his 2021 birthday!
With skylights, vents, shelves, and a limited 10-year warranty – Your husband's 2021 birthday will be a super memorable one!
Husband's love their gadgets, and this GPS Drone with Camera is a tech gadget lover's dream!
With a GPS auto-return home feature, carrying backpack, auto-follow you to take pictures, and instantly save footage to your smart phone features – This birthday gift for husbands is a dream!
Another great birthday gift idea for the husband who has everything is this Anti-Spill Cup Holder!
Made of food grade silicone and one-size-fits-all design! Great for mugs, cans, bottles, or glasses!
The ultimate GoPro Hero9 in Black with ALL the accessories! A top birthday gift for husbands who hike, bike, whitewater raft, snowboard, etc.
The possibilities for use are endless!
Your husband's man cave could use an upgrade for his birthday this year! From watching the big game to new release movies to his favorite Netflix shows –
This Samsung 55-Inch Smart TV with Alexa wins BEST birthday gift for husbands ever!
With easy payment options, 100 night trial, and thousands of people swearing by them, a Purple Mattress could be a good birthday gift for your husband (as well as yourself!)
A cool and unique birthday gift idea for husbands is this Natural Lava Stone Wireless Charger from Eggtronic!
Mined from natural lava stone – What a gorgeous, fun, eco-friendly birthday gift idea!
With it's large display touchscreen and lots of storage, the HP 15.6″ Touchscreen Laptop will give your husband a Happy Birthday indeed!
If your husband is a gamer, the Xbox One S Bundle is for him! Besides gaming, you can also play 4K Blue-ray movies and stream 4K from Netflix, Amazon, and Hulu!
Even if your husband already has everything, you can always throw him a party by decorating, getting a cake, and cooking him a nice dinner!
These Birthday Decoration Packs are awesome and include everything you need to deck out your house for his big birthday!
Final Thoughts on BEST Birthday Gift for Husband 2021
And voila!
41 of the BEST 2021 birthday gift ideas that will please ANY husband, and fit ANY BUDGET!
Honor the awesome husband in your life with a super amazing, thoughtful birthday gift!
Have you tried any of these 2021 birthday gifts for husband ideas? Do you have any other ideas for birthday gifts for husbands? Please like, comment, and share on social media!
Related Posts You May Like: