Looking for the BEST Wedding Gift Signs to personalize for your family and friend's weddings?
Then, you're in luck, cause we've curated 15 of the best, wooden, cute, vintage, DIY looking wedding gift signs for home!
Giving personalized signs for wedding gifts is a cute, thoughtful way to gift the happy couple with good vibes for their new life together!
"This post contains affiliate links. As an Amazon Associate, I earn from qualifying purchases."
Read my Full Disclaimer/Affiliate Policy here.
15 Wedding Gift Signs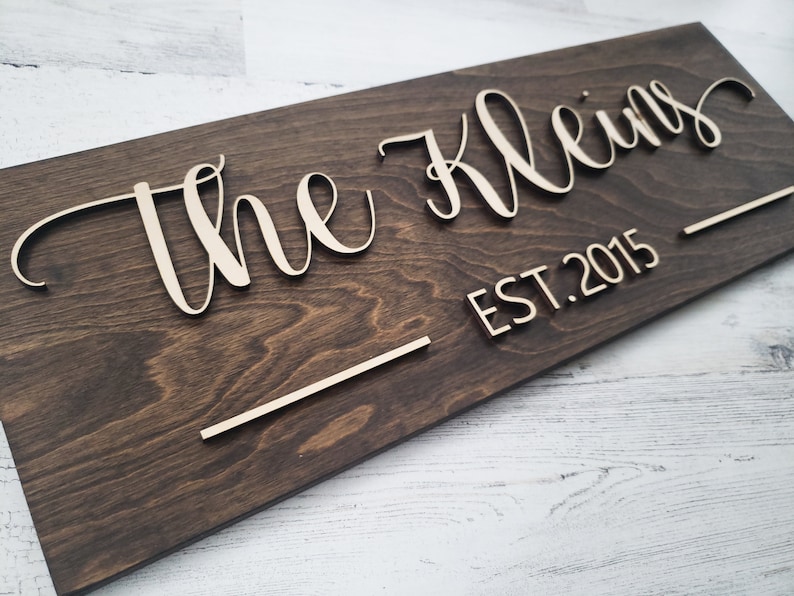 This Last Name Wooden Wedding Gift Sign is a best-seller on Etsy for good reason! With it's classic lines and beautiful font, what friends wouldn't want this for a wedding gift?
This personalized wedding gift wooden sign comes available in a variety of sizes and finishes.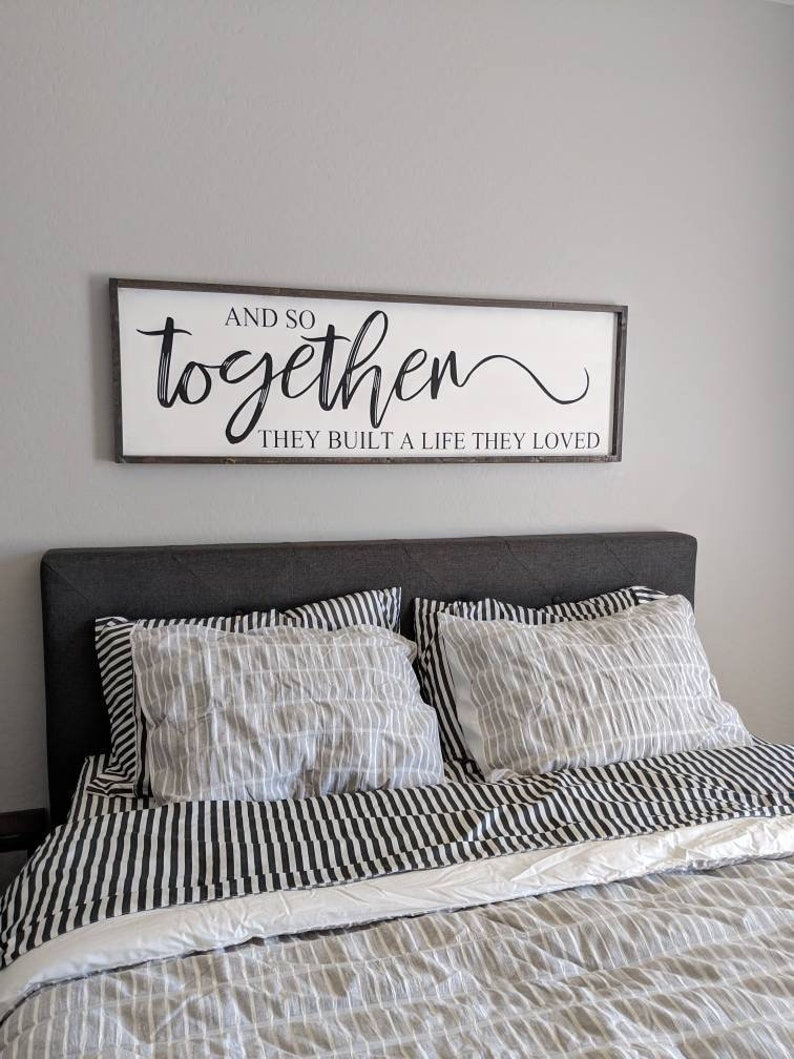 This Handmade Wooden Frame Sign makes a great wedding gift as well! The seller hand makes these to order and also lets you choose a distressed frame, vintage look!
This Personalized Family Name Sign has a very rustic, vintage look and also make a great wedding gift, housewarming gift, or even Christmas gift!
This Custom Wedding Gift Sign comes in a pallet design and is a super creative and beautiful option to gift your friends!
The family name sign is printed directly onto the wood and measures 15×18.
Giving a unique spin to the traditional wedding gift signs – This Wedding Gift Sign is directly printed onto the glass and is both modern and beautiful!
Family Name Sign measures 11″ x 21″ with frame.
Another riff on the traditional wooden signs for wedding gifts, housewarming gifts, anniversary gifts, and Christmas gifts, comes the Steel Personalized Last Name Wedding Gift Sign.
Made from heavy duty 16 gauge steel and comes in 4 colors: Black, copper vein, silver vein, and white. Wedding sign measures 18″ x 16″.
This Custom Wooden Sign makes a great wedding gift for the bride and the groom! I love that the seller hand makes these for a DIY wedding sign look, plus she offers them in 3 finishes and 3 sizes!
So, the wedding gift sign you get from this seller really does have that custom look and feel!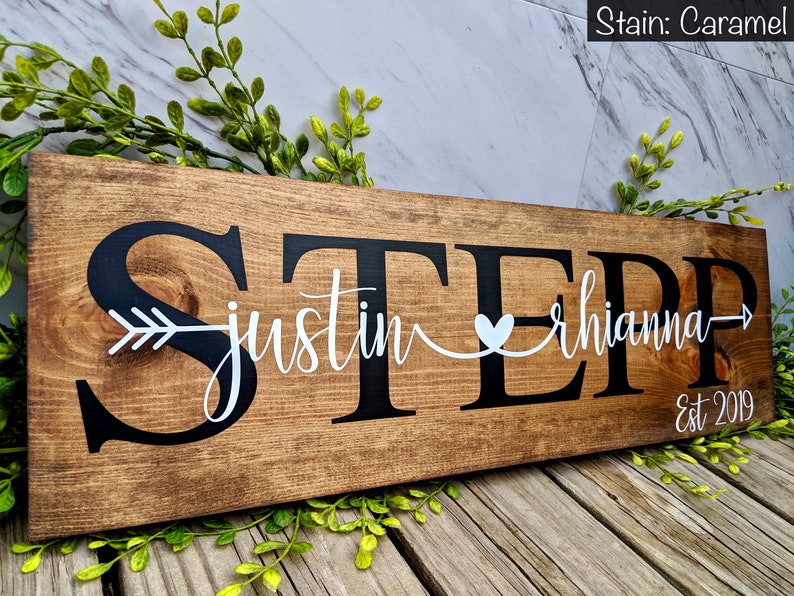 Not only great for a wedding gift sign, this Wooden Custom Wedding Gift Sign also makes a great bridal shower gift, housewarming gift, or even Mother's Day gift!
With 3 personalized stain options + 3 sizes to choose from – You're sure to find that Custom DIY look for your wedding gift!
This Wedding Sign Gift is slightly more classic and traditional looking to fit that type of more modern home decor.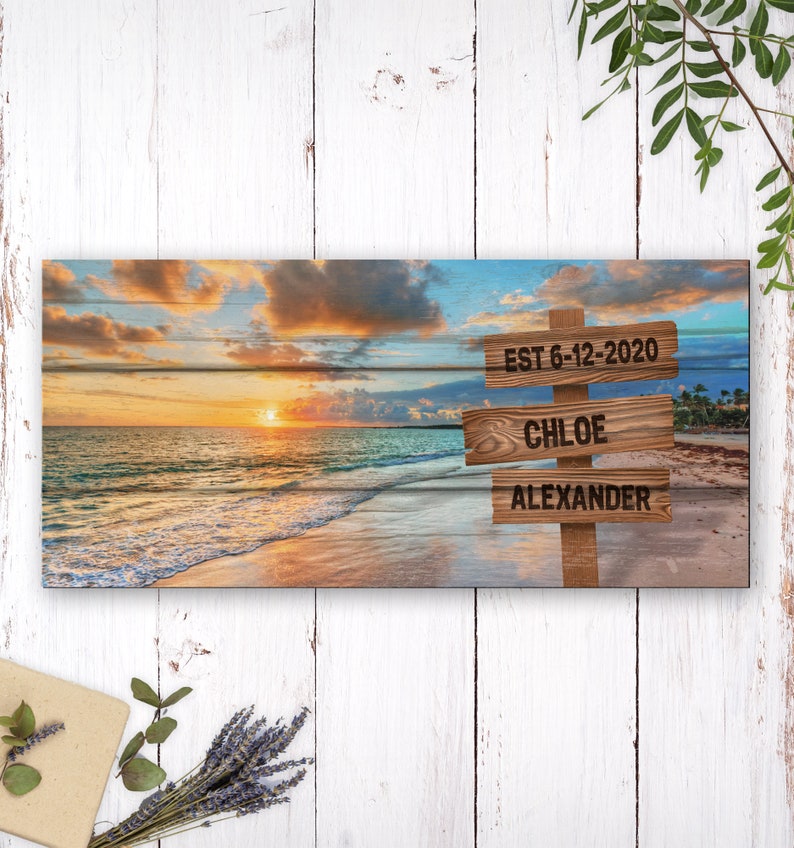 This Beach Sunset Wedding Sign Gift with Couples Name is another take on the classic wood wedding gift sign!
Available in 3 sizes, this one also makes a great wooden sign anniversary gift, engagement gift, or bridal shower gift as well!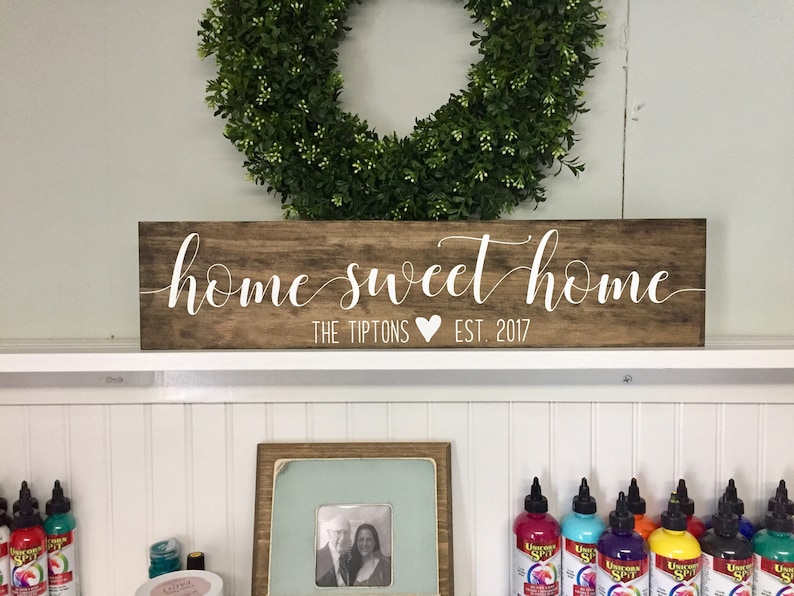 Another great wedding sign gift option is this Personalized Wooden Home Sweet Home Sign!
Made from 100% wood and a great price!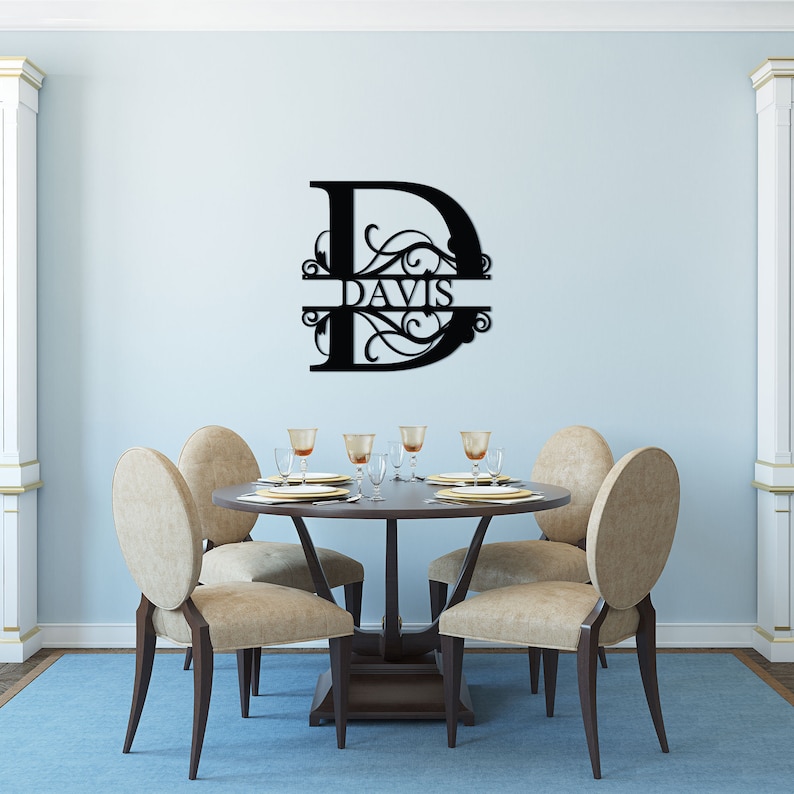 Made of high-quality steel and 3 size options – This Custom Metal Name Sign Wedding Gift also makes a great housewarming gift, bridal shower gift, engagement gift, or anniversary gift!
This Wooden Wedding Gift Sign for Home also lets you personalize your state as well as the happy couples name!
Also works great as a housewarming gift, or new home gift – This Wooden Name Laser Cut Wedding Gift Sign is beautiful and will look amazing on any new bride and groom's front door!
Sign is made from 1/4″ thick premium Baltic birch plywood, and comes in 12″, 15″, & 20″ sizes.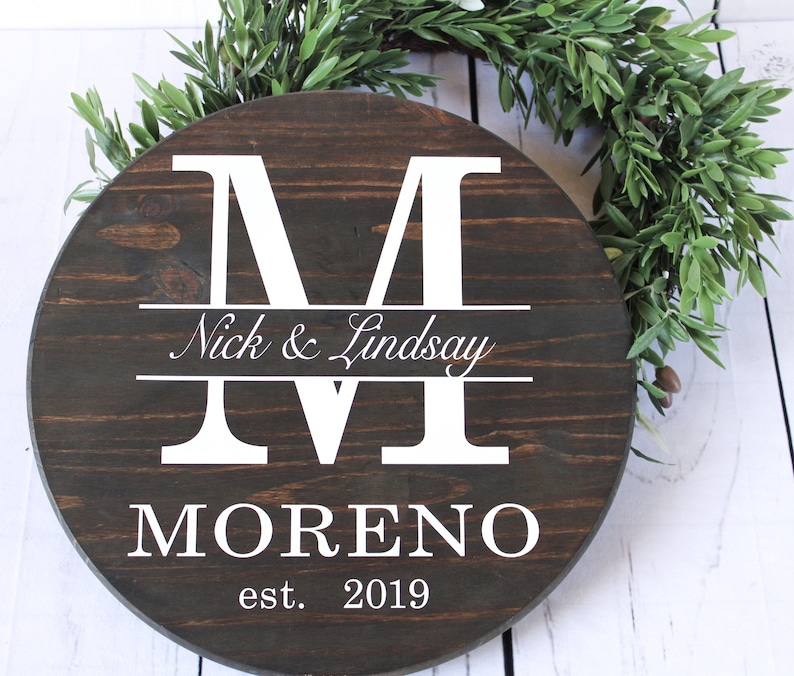 With 3 sizes and 10 stain colors to choose from — This Round Wooden Personalized Family Name Wedding Gift Sign is a different style of option for a wooden wedding gift sign!
It can be put on a cool, creative photo wall montage, hung on a new home door, or put above the newlywed couples bed!
Final Thoughts on Wedding Gift Signs
I hope you found the best, vintage, cute, personalized, wooden wedding gift signs for wedding gifts, anniversary gifts, bridal shower gifts, and housewarming gifts that there are!
Please leave a comment below if you liked these wedding gift signs! Or share to social media!
Related Posts You May Like: